1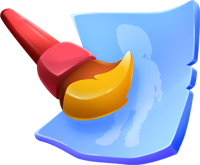 Build A
Cartoon
Create characters that look like you and your grandchild.
2
Create
Names
Add your names to personalize the story.
3
Choose a
Special
Yearlong Story
Choose among a wide variety of adventure stories.
4
We Build
Your Story
We create your unique, personalized book and print each chapter on 8 x 10 high quality paper.
5
We
Mail
We mail a NEW printed chapter directly to your grandchild every 3 weeks for a year and email you a digital copy.
6
Enjoy!
Enjoy sharing the surprise, delight, laughter, conversation and learning that happens once your adventure begins.
Series Features:
Make personalized cartoons and become main characters in a fun adventure story

A brand new chapter is mailed to your child every 3 weeks for a full year

17 chapters and 68 pages of fun

Adults receive digital copies of every chapter

Beautiful book binder holds the story
Build your story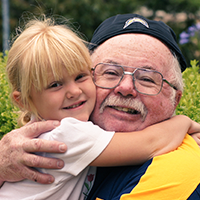 Create a Legacy
Toys and trinkets are tossed and forgotten. Your adventure story will leave a lasting legacy.
Show You Care
Show your grandchild you're thinking of them with a truly personalized gift.
Stay In Touch
Stay connected through a shared adventure! Know you'll have something to talk about every three weeks.
Makes Reading Fun
Kids love reading Adventures Of stories because they see themselves in the story along with someone they love.
Your Grandchild
Loves seeing their name and themselves as a character in action and can't wait to talk about it.
Grandma or Grandpa
Receives a digital copy of each chapter via email and shares the adventure with the child.
Talk, Read, Connect
Adventures Of gives families the chance to connect and bond on a regular basis through personalized stories that not only ignite the imagination but also foster meaningful conversations. Each chapter becomes a bridge, linking generations with shared adventure, laughter, and lessons.
100% Money-Back Guarantee
We're so confident that you'll love this special adventure with your grandchild – we offer an unconditional money-back guarantee. You have nothing to lose, and everything to gain!
Build your story
How often do the stories arrive?
The child will receive a 4-page chapter every 3 weeks in the US mail for a year.
How many people can be in a story?
You can have up to 2 adults and 1 child in one story. The entire purpose of The Adventures Of Series is to bond adults to the child they love. So, we limit the stories to only one child. However, we greatly discount additional stories for other children.
I'm concerned about my grandchildren's security, is our information protected?
Security is our number one priority. We will NEVER sell, lend, or trade your information for any reason. We will not spam or harass either you or the child.
What happens if the child moves?
Simply log into your account and change the child's address. The next chapter will be sent to the new address.
If the chapter sent to my child was damaged or lost, how do I request a replacement.
How does the 100% Money-Back Guarantee work?
Upon receiving their binder and first chapter, if for any reason your special child is not completely satisfied, contact us for a full refund. If you cancel further into the story, your refund will be prorated.